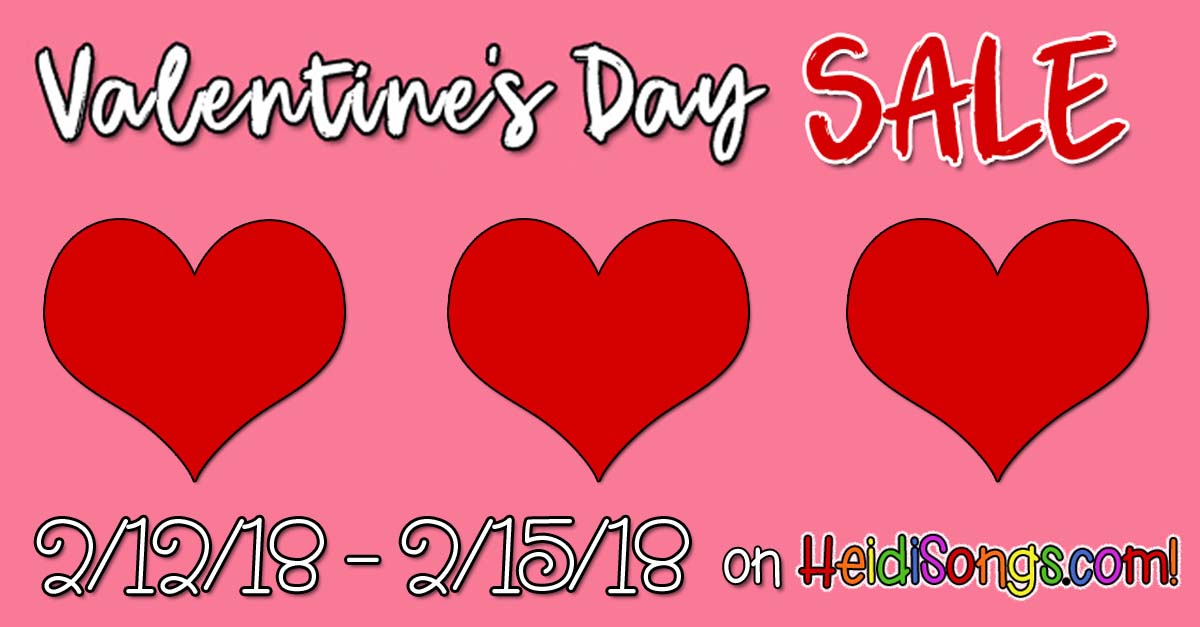 Happy Monday!!! Just wanted to quickly let you know that we are having a SALE!!! From NOW through Thursday, 2/15/18, use the code HEARTS and get 15% off your entire purchase, only on HeidiSongs.com!!

If you're looking for some ideas on what to buy or wondering what's new…….
Our Sounds Fun Phonics DVD is newly ANIMATED!! It's two discs and $20, so using the 15% would be GREAT! And if you haven't seen the new "sound it out" section after each song, check the video below!  It is AMAZING practice for kids that are just learning to read and write these "chunks!"  I recommend that you let them try it first with the sound UP and then with the sound MUTED.  Kids that can tell you all of the sounds in these words should be able to both write AND read them!  What could be more fantastic than that?
Another thing to check out would be our Specials & Combos page!! We have put together different products in bundles for great prices. Some grouped by topic and some by grade level ie Kinder, Preschool, and First Grade classrooms.

(Taking 15% off our already discounted combos or bundles sounds great, doesn't it?

) Click here for more info on those!
Here's a fun video with an overview of some of our stuff!
Have a GREAT week!
-Heidi
P.S. TPT is ALSO having a Valentine's sale!! That starts on Valentine's Day and is only TWO days. So 2/14/ and 2/15!
———————————-
Follow me! Did you enjoy this post? Do me a favor and share it with your friends!  And follow this blog by signing up for my email updates, or follow on Bloglovin', or follow me on TPT!  I'm also on Pinterest, Facebook, Twitter, Instagram, Google+ and YouTube, too!  Don't forget to sign up for our email newsletter (on the left sidebar) for special deals and promo codes that you won't find out about anywhere else.