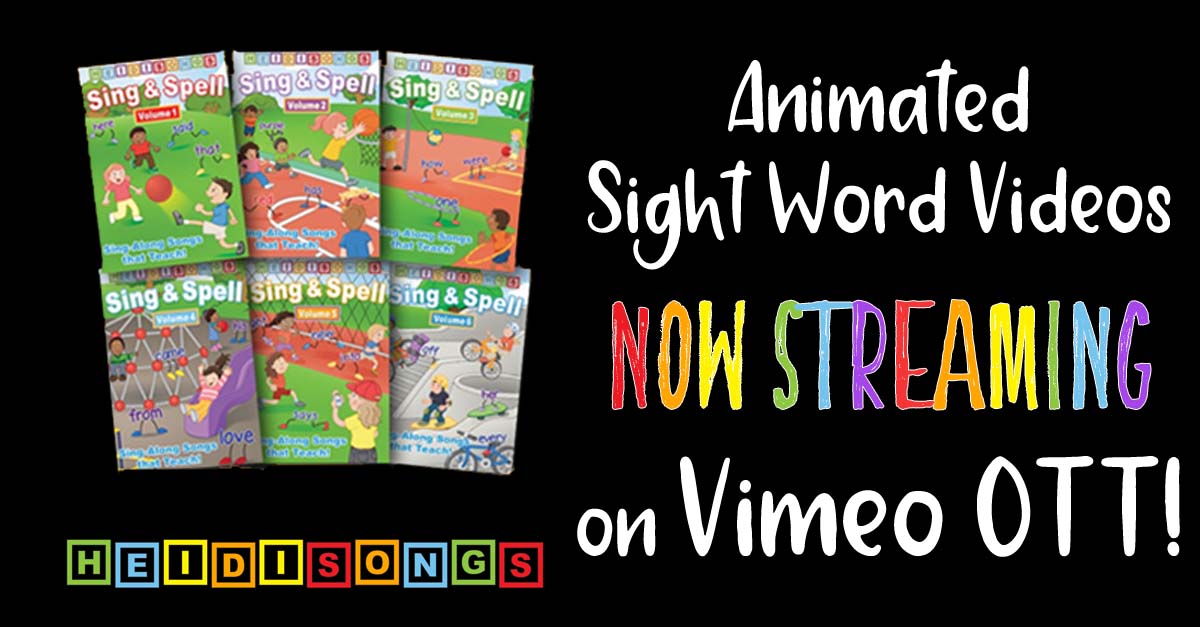 Here's some great news for those of you that prefer internet streaming over using DVDs:  We've re-launched our Vimeo OTT HeidiSongs service (previously called VHX) and now have ALL 160 newly animated Sing & Spell videos together for one low price- just $6.99 per month!
Just ask anyone that has tried teaching sight words to little ones!  HeidiSongs Sing & Spell videos are the fastest, easiest and most fun way to get those words into long term memory, and when you're done, your kiddos will be able to SPELL the words, too! 

What more could you ask for?  AND- there's no commitment; you can just pay as you go.
Here are all of the Vimeo OTT details in a nutshell:
link: https://sightwords.vhx.tv/
– Featuring our ANIMATED Sing & Spell videos! (If you'd like the CLASSIC version of our videos, you can subscribe here! Same price!)
– Get access to all 160+ animated sight word videos for only $6.99 a month! Or, get a whole year for a discounted rate of $59.99!
– Access animated Sing & Spell volumes 1-6 from ANY device!
– People love using Vimeo OTT because it gives them access to all of the Sight Word video content we have for one low price! Think of it like Netflix – but for HeidiSongs!!
– We're even offering a one week free trial so you can test it out and see if it works for you!  And it is VERY important that you try it out in your classroom or home FIRST before purchasing, to see if your internet bandwidth is strong enough to stream the movies without "stuttering."
Need a custom playlist?
– Here's a fun tip! If you want to use a specific set of songs in a certain order, open up a new tab in your browser for each song! This is an easy way to get your own "custom playlist!"
What is the difference between Vimeo and Vimeo OTT?  Both are for Streaming On Demand Video, right?
On Vimeo OTT, you pull up one song at a time.  On Vimeo, you pull up one entire DVD at a time.  That is the most basic difference.
Vimeo OTT is a rental for ALL of our Sight Word songs, Volumes 1-6.  The rental gets you access to all six volumes, where you can play one song at a time.
Vimeo is a rental per DVD title, and plays straight through like a movie.  There isn't a "single songs" menu, but we have noted the time stamps for each song to help make it easier to skip ahead to the song you are wanting that way.  
On Vimeo, you rent one DVD at a time, and it's $7.00 per year.   So, you can rent Sing and Spell Vol. 1 for $7.00 for the year, and Sing and Spell Vol. 2 for $7.00 for a year, etc.  There are other lists you can rent as well, such as the Dolch Primer List with 50 words on it for $11.99 per year, the Wonders Kindergarten List, which has 40 sight words on it for $9.99 for a year, and so on. If these type of lists work better for you, then definitely use Vimeo!  We are trying hard to get you hard working teachers, parents, and administrators just exactly what you need at a price that you can afford.  So let us know how we can help you!
Questions?  Just let us know!

Leave a comment below or email us at info@heidisongs.com! And of course, if you still prefer to own the physical DVDs, you can get them on our website, HeidiSongs.com!!
– Heidi
P.S. This is all about our new animated channel! If you'd prefer our CLASSIC sight word videos, all the same tips and info applies, but you can subscribe here!
----------------------------------
Follow me!
Did you enjoy this post? 
Do me a favor and share it with your friends!  
And follow this blog by signing up for my email updates, or follow on 
Bloglovin'
, or 
follow me on TPT
!  I'm also on 
Pinterest
, 
Facebook
, 
Twitter, Instagram
, 
Google+
 and 
YouTube
, too!  
Don't forget to sign up for our email newsletter (at the bottom of this page) for special deals and promo codes that you won't find out about anywhere else.