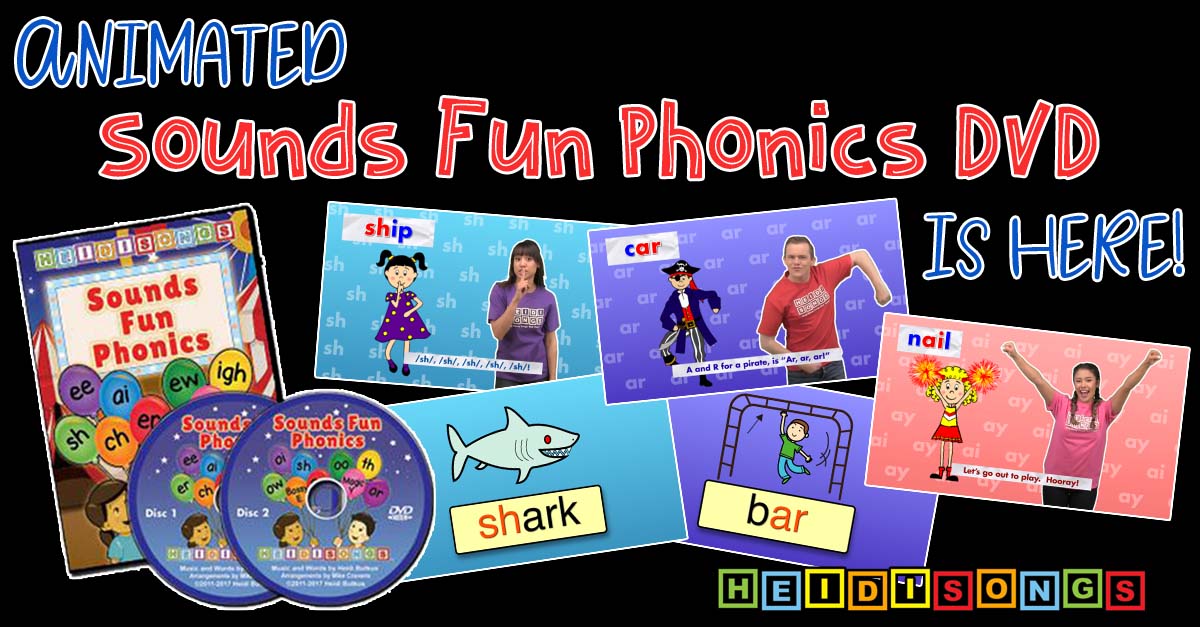 I am SO EXCITED to tell you that our ANIMATED VERSION OF THE SOUNDS FUN DVD IS FINALLY HERE!!!! And it's AMAZING! Just wait until you see it!  The animation makes it so much more fun!  PLUS, after each song, there is a "Sound it Out" section in which the kids are shown how to sound out nine words in that word family, one sound or "chunk" at a time.  So basically, this DVD teaches the children the chunks first, and then teaches them how to read the words with the chunks in them!
Let me tell you a little bit more about the "Sound it Out" sections included in the new version of the DVD, since it is new.  If you are familiar with the original Sounds Fun DVD, it has words from the target words family printed on the upper left hand side of the screen that rotate through during the song.
Those words are still there on the new version, but what we have done is included a new section after each song in which a picture for each word is shown, and then a few letters of the word fly in, one sound at a time.  A voice gives the sound for each letter, one phoneme (sound) at a time, and then reads the whole word.  The children are expected to do this along with the voice on the screen.  Watch this example and see the Sound it Out section at the end!
Of course, given that the picture is right there on the screen, the word itself is a dead giveaway, and we are aware of this.  However, after thinking this through, I think that it is just perfect the way it is, and here is why:
-The children are being shown just one sound at a time, and hence how to sound out the word.
– Children that can do this will know exactly how to segment the sounds (tell all of the sounds) in the words.
– Kids that can segment the sounds will very likely be able to spell every single word, once they have memorized the spellings of the chunks.
– The DVD is PATIENT and CONSISTENT– probably much more so than you or I!  So even if a child keeps calling out the entire word at the beginning of each sequence, it will STILL keep sounding each word out.  This is wonderful for special needs children that just really need that repeated practice, again, and again, and again.
– If you need/want to skip over this section for any reason at all, it's super easy.  Just advance your DVD to the next song.  Easy peasy!
Oh, if ONLY I had had this version of the Sounds Fun DVD when I was teaching my reading intervention group last year!  I think it would have made a world of difference to them!  I was given a group of intervention second graders, who were basically with me for an hour a day because they were missing some skills and were reading on a first grade level.  So I was trying my best to fill in the gaps. (Every grade level at my school switches kids according to reading level so that we can meet their needs for intervention and acceleration, etc.) They were doing quite a bit of guessing rather than decoding, and really needed help with their phonics.  So of course, I pulled out my trusty Sounds Fun cards, DVD, Sound Building Kit, Bingo games, Sounds Fun Worksheets, and anything else I could think of to get them to practice!
One of the things that I used to help them practice was fluency charts!  I started off using the fluency materials from amazing and wonderful Katie Knight of Teacher to the Core.  I went to her session on comprehension and fluency at the I Teach First Grade! conference in Las Vegas the year before I started teaching my first/second combination class, and learned all about her wonderful methods in teaching fluency.
I started off with her Fall Literacy Units, progressed to her Winter Literacy Units, and then of COURSE I was hooked and just HAD to have her Spring Literacy units as well!   Naturally, by that time, I was just wishing I had gotten the Literacy All Year BUNDLE and saved myself some moolah, but you know what- she DESERVES it!
Fluency Charts
In any case, the following year with my intervention students, I really needed the focused practice with specific phonics word families, so I started making my own fluency charts for them to go with the worksheets, music, and other Sounds Fun materials that I already had.  You can find these Phonics Fluency Charts here!  I am going to keep working towards getting some short fluency reading passages done to add to the collection as well; hopefully I'll have that done by the new year!
My routine was to have them come in and begin reading their fluency charts first thing.  Then they would flip the charts over and read the story that included the words on the back!
They were to practice reading until I was ready to set the timer, and then we read the charts aloud as a group.  I used to listen to one child per day read the chart, and made a note of how many words per minute the child had read.  Other than that, I did not pull the children and test them on their fluency!  I just really wanted them to PRACTICE daily- whether or not anyone could actually test them.  (It's a novel idea, I know!)  I asked the children by a show of hands how many words per minute they had read.  Who had read 30?  40?  Who had read the whole thing?  And that was enough for me!  Every now and then, when I had time, I pulled them and listened to them to check or had volunteers do it. 

SO!  Is this DVD for Kindergarten?  Well, in case you are wondering, I used the original Sounds Fun DVD in Kindergarten every single year after I created it!  It REALLY helped them learn to write phonetically, because it gave them a guide that helped them to write the sounds that didn't fit into the basic short vowel sound spelling patterns that they had been taught.  In fact, that's the whole reason why I came up with it- to give my kids a way to spell those other sounds.  The funny thing is that it really influenced their reading as well as their writing- OF COURSE!  But that wasn't on my mind when I came up with it in the first place, LOL!
Because we added so much to the DVD, it now comes in a two disk set, so it costs more:  it's $25 instead of $15, which is the price of the "classic" DVD with just me in it and no animation!  The first disk has the easier chunks, and the second one has the harder ones, at least in my opinion!  (By the way, whenever my little TKs see a DVD with me on it, they all start shouting, "THAT'S YOU WHEN YOU WERE YOUNGER!!!!"  Gotta love those four year olds!  LOL!)
The phonics spelling patterns covered are: Ai/Ay-Hooray, Ar-Pirate, Au/Aw-Caw, Ch-Choo Choo, Ea/Ee-Whee, Er/Ir/Ur-Tiger, Ew-Monster, Igh-Sailor, Ing-King, Ink-Pink Ink, Oa-Tummy Ache, Oi/Oy-Piggy, Oo-Monkey, Or-Dinosaur, Ou/Ow-Howl, Sh-Quiet Girl, Th-Blowing Raspberries, Unk-Skunk, plus these basic phonics rules: Bossy E, Magic Y, Vowel Walk
– Heidi
P.S. Check out these other blog posts of mine for more information on Sounds Fun Phonics: 
–Phonics: Teaching Kids to Read Words with Sh and Th 
–Printed Alphabet Pattern Blocks and Sounds Fun Phonics Cards 
–Sounding Out and Making New Words with the New Sounds Fun Word Building Kit!
----------------------------------
Follow me!
Did you enjoy this post? 
Do me a favor and share it with your friends!  
And follow this blog by signing up for my email updates, or follow on 
Bloglovin'
, or 
follow me on TPT
!  I'm also on 
Pinterest
, 
Facebook
, 
Twitter, Instagram
, 
Google+
 and 
YouTube
, too!  
Don't forget to sign up for our email newsletter (at the bottom of this page) for special deals and promo codes that you won't find out about anywhere else.