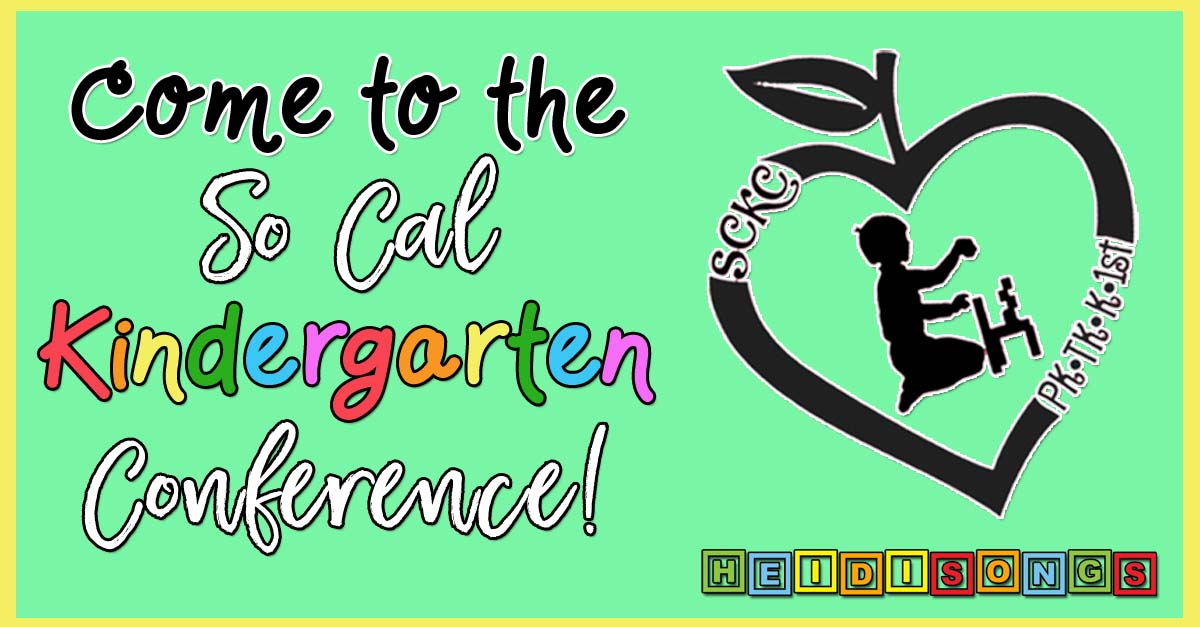 Who's coming to the Southern California Kindergarten Conference next month??? Who WANTS to go but hasn't signed up yet?? THERE'S STILL TIME!!! I love this conference and look forward to it every year!!!
My HeidiSongs team will be there with a booth so you can grab some products at our special conference price! I will also be presenting FIVE different sessions! Here's my schedule!

FRIDAY, FEBRUARY 9, 2018
4:00 – 5:15 pm
Session: Full STEAM Ahead with Stories and Nursery Rhymes (TK, K, 1st)
Learn easy-to-implement STEM and STEAM lessons that will both challenge and delight your students! These STEAM activities can be adapted to fit many existing themes that you probably already use in your classroom, such as fairy tales, favorite stories, and classic nursery rhymes. (Can be used with cross-age book buddies, as well)
5:45 – 7:00 pm
Session: Developmentally Appropriate Ways to Get Kids Writing — Fast! (TK, K)
This workshop is chock-full of ideas and techniques that will help all children get started writing quickly, even when it seems impossible! Lots of ideas for active learners, musical learners, second language learners, and special needs children, too!
SATURDAY, FEBRUARY 10, 2018
8:30 – 9:45 am
Session: Great Whole Group Games and Activities for Math and Language Arts (Pre-K, TK, K, 1st)
This session is for the teacher with NO HELP, NO TIME, a large class, and who needs to teach both math and language arts! Once you add a few of these games to your repertoire, your kids will BEG to play them and your lesson planning will be a BREEZE!
10:15 – 11:30 am
Session: Favorite Multisensory Tips and Tricks for Phonemic Awareness and Sounding Out Words (TK, K, 1st)
Come learn some teacher-tested and child-friendly tips and tricks for getting kids started developing phonemic awareness and sounding out words through movement. This session is jam-packed with ideas that can help you channel your students' excess energy!
1:00 – 2:15 pm
Session: Discipline and Classroom Management Tips to Get You Through the Year (Pre-K, TK, K, 1st)
Join Heidi for a review of her best tips, tricks, games, and music to help "train" your students so that you can have the fun with them that you always knew was possible! Once you get the routines down, everything else falls into place, and you won't believe what you can accomplish!
Here's a list of the featured speakers this year from the brochure! This is an absolutely AMAZING line-up of incredible presenters!  I'M SO EXCITED!
TOP REASONS TO ATTEND
– Get tips, tricks, and best practices from the nation's top-notch expert educational leaders, presenters, and consultants.
– Choose from over 65 content-rich sessions that focus on teaching the standards in all areas, including reading, writing, math, science, technology, and much more!
– Learn strategies to teach with rigor, relevance, and relationships.
– Discover ways to motivate, engage, and prompt students to learn and achieve.
– Get the most current research-based and brain-based teaching methodologies.
– Gather ideas to incorporate play inquiry, critical thinking, collaboration, and foster all domains of development: physical, emotional, social, and intellectual.
– Enjoy tons of fun and motivational ideas that will encourage you to return to the classroom with a multitude of ideas that you can implement immediately.
– Develop strategies to identify and differentiate instruction for your at-risk and struggling students.
– Explore the exhibits for the most current teacher tools, manipulatives, professional books, children's books, computer hardware and software, science products, music products, art supplies, literacy products, learning games, and more!
– Leave the conference with a renewed sense of why you love teaching and working with children.
If you'd like to view the brochure with ALL the this info and more, click here!! And if you're ready to register, click here!
– Heidi

———————————-
Follow me! Did you enjoy this post? Do me a favor and share it with your friends!  And follow this blog by signing up for my email updates, or follow on Bloglovin', or follow me on TPT!  I'm also on Pinterest, Facebook, Twitter, Instagram, Google+ and YouTube, too!  Don't forget to sign up for our email newsletter (on the left sidebar) for special deals and promo codes that you won't find out about anywhere else.