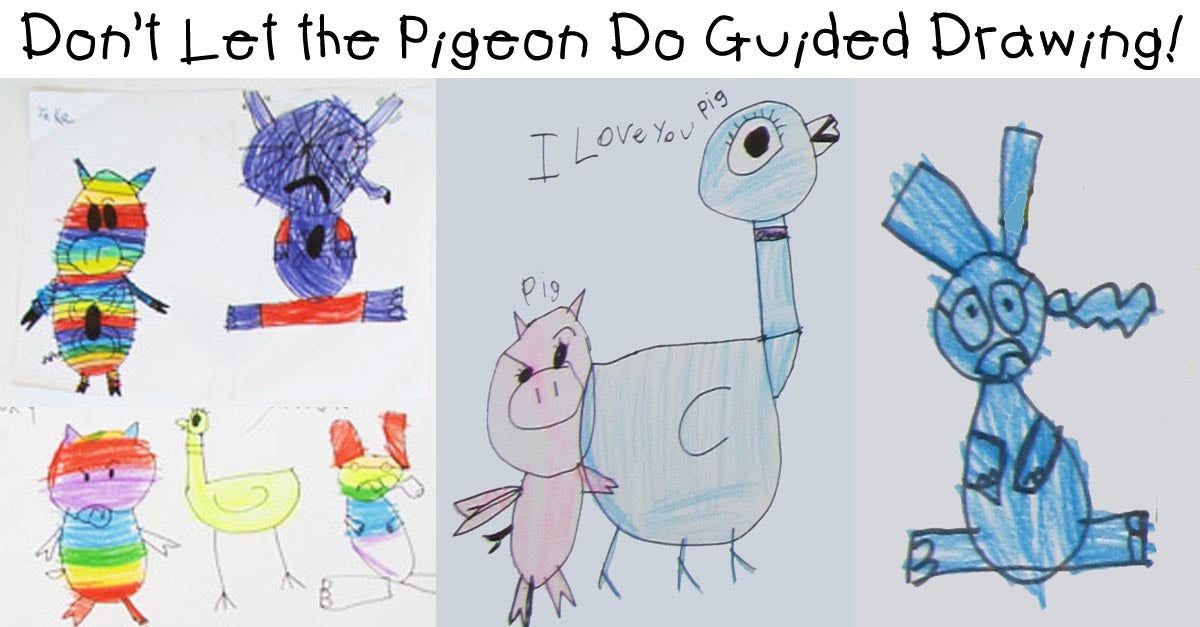 Last week at the International Reading Association Conference, I  had the wonderful privilege and pleasure of hearing Mo Willems speak, since he was the keynote speaker for the last general session of the conference on Monday morning. 
In case you are not familiar with his work, Mo Willems is the author of Don't Let the Pigeon Drive the Bus! and Don't Let the Pigeon Stay Up Late!  He also writes the "Elephant and Piggie" books, such as We Are In A Book, and There Is A Bird On Your Head!  I had no idea that he was such a funny guy, but I guess I should have known!  His speech was a string of great one-liners that kept all of the teachers literally in stitches!
This is Mo Willems as he taught us how to draw his famous Pigeon.
At the end of his speech, this what he said to everyone in the room, "I invite you to infringe on my copyright.  PLEASE teach your students to draw the characters from my books!"  And then he taught us all to draw his famous pigeon.
This is the pigeon that I drew, under Mo's direction!  LOL!
Mo told us that he had only JUST flown in from Paris, France.  His presentation lasted about thirty minutes or so, and I enjoyed every minute of it!  It was definitely the highlight of my weekend!  And then after that, everyone was lined up for a looooooooong way to purchase a signed book.  Now wouldn't you LOVE to have a job like that?  I can only dream of such things!
Mo Willems gave us all a "Kodak Moment" and peeked out from behind his easel!
After hearing him speak, I just couldn't wait to try out his guided drawing lesson of the pigeon with my students!  I had to figure out how to draw his elephant and piggie on my own.  But YOU can download my instructions FREE for the pigeon, piggie, and the elephant! 
Pigeon – Guided Drawing Download is here
Piggie – Guided Drawing Download is here
Elephant – Guided Drawing Download is here
To get ready, I read the children several of his books during the week I after I got back, and showed them a picture of Mo Willems that I took with my camera at the conference.  They love his books, so that was no problem at all!  As usual, there were several requests for me to "re-read" the books again and again.
After that, I passed out our class set of clipboards and the black markers that we use for guided drawing, and off we went!  First, I taught them to draw his famous pigeon just as Mo taught us in his presentation.
Then I found a page with a picture of his "Piggie" character in it in his book called, We Are In A Book! that I thought might be easy enough for us to draw.  I broke it down into very small steps and led the children through it one step at a time, as usual.  It's amazing what children can do when you explain it to them in terms that they can understand!
I hope that you enjoy these lessons!  There are LOTS more free guided drawing lessons on my blog!  Just use the "Search This Blog" box to find more, or look for more on my Guided Drawing page on Pinterest!
----------------------------------
Follow me! Did you enjoy this post? Do me a favor and share it with your friends!  And follow this blog by signing up for my email updates, or follow on Bloglovin', or follow me on TPT!  I'm also on Pinterest, Facebook, Twitter, Instagram, Google+ and YouTube, too!  Don't forget to sign up for our email newsletter (at the bottom of this page) for special deals and promo codes that you won't find out about anywhere else.