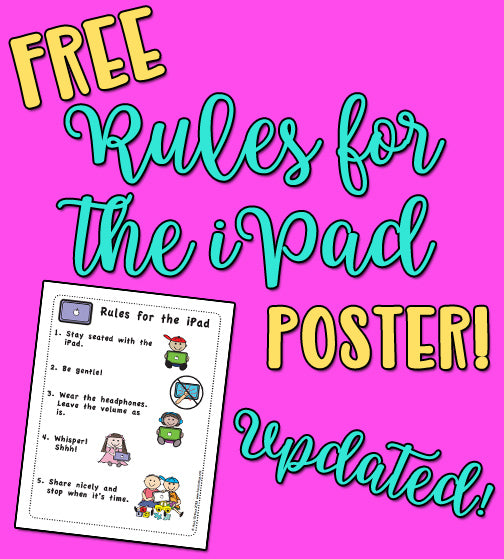 Today I have a newly updated Rules for the iPad poster all freshly updated for you!  I created this poster last spring when we were lucky enough to receive SIX new iPads for our team!  The poster has five simple rules in a positive PBIS format with some cute little illustrations to help non-readers, and it is FREE for you to download and print!
Last fall when we came back to school, our iPads were missing from my teammates room, so we didn't get to use any tablets at all until after Spring Break, when our new principal found some funding, with the help of her marvelous secretary!  We were SO EXCITED to have them, but I knew that I would need to teach them how to handle them properly first.
I went back to my original Rules for the iPad post with the free downloadable poster that I had made several years ago, but I noticed a few things that needed to be changed and updated.  So I went ahead and took care of that, and then promptly forgot to post it for all of you!  Oops!
Here are my new rules for the iPad.  Of course, this would work for any tablet!  I have restated everything in positive terms for our new PBIS policies.  :)
1.  Stay seated with the iPad.
2.  Be gentle!
3.  Wear the headphones.  Leave the volume as is.
4.  Whisper.  Shhhhh!
5.  Share nicely and stop when your turn is over.
I would love to have your feedback on these rules.  Did I miss anything?  Should something be changed?  Let me know!
I am sorry that this is not editable, but since I created this document on my Mac in QuarkXpress, you would need that application to open it and edit it.  If you have Quark, you are welcome to email us and ask for an editable copy!  
And just in case you missed it, you may want to check out the apps that I put on my wish list!  Some are free and some are paid, but it's a great list!  I did a lot of research on which were the best ones, and tried out ALL of them!  See my recent post here.
I hope you enjoy this little freebie!  And remember:  PLEASE do NOT print out multiple copies for others.  Instead, give them the link and have them visit my blog to download and print it themselves.  That way, they get to see all of the wonderful things we have here on our site, too!  And naturally, you know that this is not for you to take and sell on your TpT store, right?  Just sayin'... (Yes, it happens.  Unfortunately!)
Thanks for reading!
-Heidi :)
----------------------------------
Follow me!
Did you enjoy this post? 
Do me a favor and share it with your friends!  
And follow this blog by signing up for my email updates, or follow on 
Bloglovin'
, or 
follow me on TPT
!  I'm also on 
Pinterest
, 
Facebook
, 
Twitter, Instagram
, 
Google+
 and 
YouTube
, too!  
Don't forget to sign up for our email newsletter (at the bottom of this page) for special deals and promo codes that you won't find out about anywhere else.