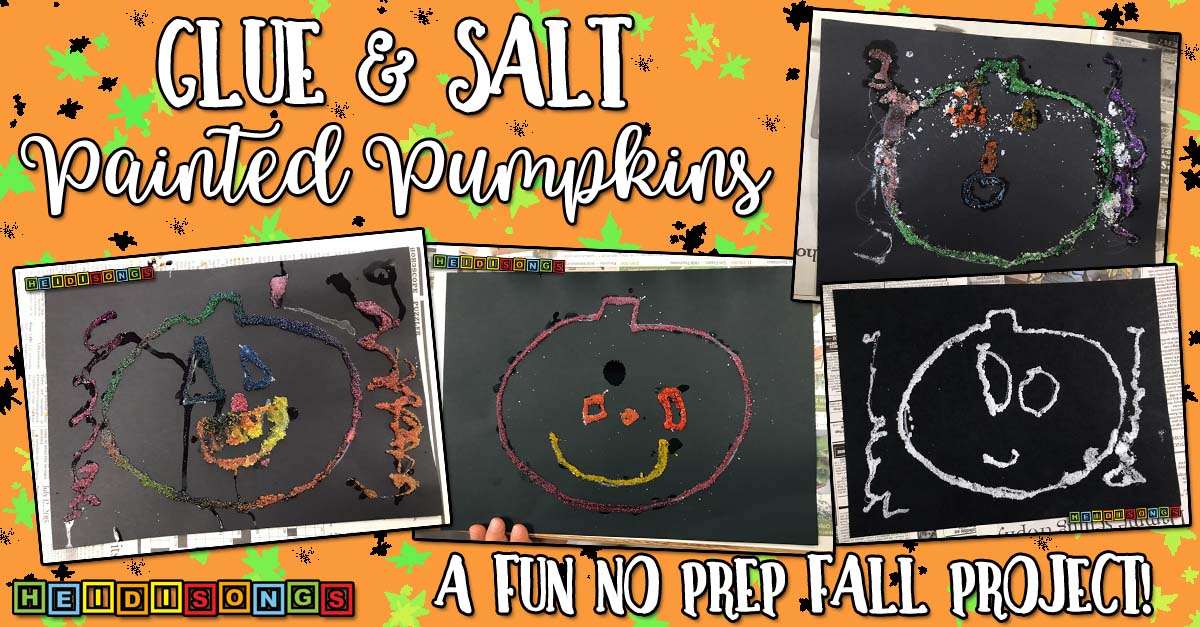 Here is a fun art project for fall that takes (almost) no prep at all, is super fascinating for most children!  It's glue and salt painting with watercolor paints, and in this case, we painted a pumpkin to celebrate Halloween!  Another great thing about this project is that it incorporates a bit of science in it, since the children get to see how the salt absorbs the water, and then how the colors diffuse and travel up the salt covered lines.  Sound like fun?  Read on!  This project can be adapted to suit just about ANY theme!
Note:  This project takes two days, because the glue and salt have to dry before you can paint on them.
Supplies:
You'll need paper (we used black), white glue, table salt, watercolor paints and brushes. I prefer liquid watercolors!  You can purchase them at Discount School Supply or on Amazon.  I understand that it is possible to make your own watercolor paints out of food coloring; just search online for instructions.
The children will also need a cup of water to dip their brushes into to wet them or wash them off when changing colors. I also have a tub ready to put the paper in when they sprinkle the salt on.  This catches the excess salt so that it can be reused.  Optional:  A pumpkin stencil or pattern to copy.
To Prepare:
All you need is a blank piece of paper!  You can let the children draw their own pumpkin on it, or give them something to trace to make the outline.  Another option is to copy a pumpkin shape onto the paper ahead of time.  It's up to you!  Then just get your white glue and salt ready to go!  Make sure you have a tub or box ready that is big enough to hold the papers.  The paints don't need to be ready to go until day 2.
Instructions:
Day One:
Write names on the back of the papers FIRST!  Then, show the children how to draw a pumpkin (or trace it) onto the paper.  You can allow them to make a jack-o-lantern face or not; it's up to you!  Then get out the white glue after they have created their design.  They should try to make a fairly thick line of glue on the paper- nearly a fourth of an inch thick!  (Very thin lines of glue won't hold enough salt, and then will not absorb much watercolors later.)  They may wish to make some other decorations around the edges of the paper as well.
Once the glue is down, have them put the paper into the tub, and begin sprinkling salt on it.  The salt should completely cover the glue and stick. Shake off the excess salt, and then lay the paper flat to dry.  We put our papers into the children's cubbies to dry overnight.
Day Two:
Now it's time to paint!  Show the children how they can add just one little drop of watercolor paint to one spot of salt, and watch it spread out along the salt line!  This is a great time to discuss how salt is used to absorb water in cold climates, and how it just sucks it up and makes it seem to disappear!  Children may also enjoy adding two drops of different colors to the same line of glue, and watching them merge together to form a brand new color when they meet!  There is lots of science to discuss here!
We sent this fun art project home on this very same day, because the salt was seriously EVERYWHERE- but it was WORTH IT!
I hope you enjoy this project!  Do you have a wonderful "craftivity" to share?  :)
- Heidi
P.S. One of our favs this season! From the Colors and Shapes or Sing & Spell Volume 2 DVD!
And of course The Halloween Song from our Little Songs for Language Arts collection! This video shows the singalong BOOK project that goes with this song!
----------------------------------
Follow me! Did you enjoy this post? Do me a favor and share it with your friends!  And follow this blog by signing up for my email updates, or follow on Bloglovin', or follow me on TPT!  I'm also on Pinterest, Facebook, Twitter, Instagram, Google+ and YouTube, too!  Don't forget to sign up for our email newsletter (at the bottom of this page) for special deals and promo codes that you won't find out about anywhere else.