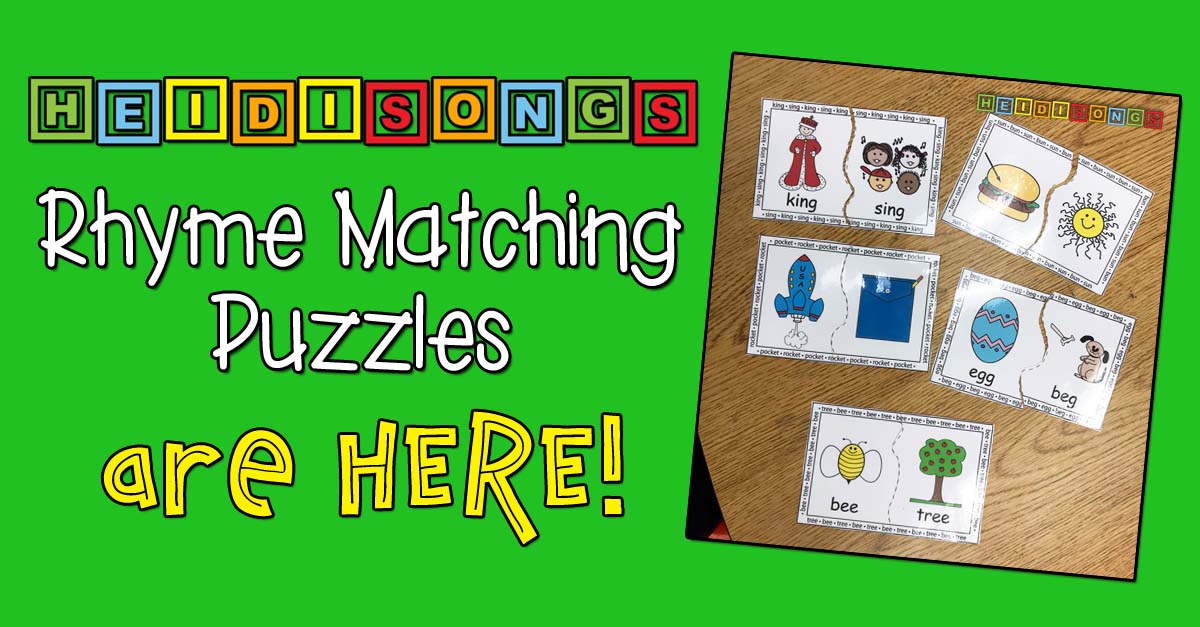 Yes, you read that right: we now have Rhyming Words PUZZLES to go with our super awesome and amazing Rhyming Words Practice Cards and Bingo Game!  Now your kids can have yet another way to practice this vital skill- AND it can be done independently, because these puzzles are truly SELF-CHECKING!  Each piece only fits with its correct rhyming mate.
We've also used the very same rhyming pairs that are included on the Rhyming Words Practice Cards and Bingo Game, just to help your little ones that are struggling.  And you know, I thought that this was going to be a "slam dunk" and probably way to easy for most of my kids, because many of them do have these rhyming pairs memorized for the bingo game, (which we have played many times and they do really LOVE, by the way!)  However, perhaps just putting them into a different format was enough to throw them off a bit, because suddenly many of them really had to think things through again to do the puzzles!  And that really surprised me!
The set includes 20 rhyme matching puzzles.  You can print them with or without the word for the picture written at the bottom.  I accidentally printed out the ENTIRE file (both with and without the words at the bottom, LOL!) and so decided to just go ahead and use them both!
That gave me forty puzzles to work with, and so I divided them up into several different zip bags of six or seven puzzles in each.  I wrote a different number on the back of the puzzles in each bag to help keep the sets separated from one another.  If I were to do this again, I would print each set on different colored paper!  That would make MUCH MORE SENSE!
To introduce them, I did a small group lesson with them first, so that later they could use them independently.  Here's what I did for that lesson:
1. Review Rhyme: I reminded the children that rhyming words have the same sounds in the middle and the end.  Then we checked one pair of rhyming words and found the middle and ending sounds of both, and found that they were the same.  (And yes, this went over the heads of most of my TKs, but at least I tried, LOL!)
2. Practice Together:  We went through the Rhyming Words Practice Cards that (come with the bingo game) to review the rhyming pairs they would find on the set.  To do this, I always put them in a large, gallon size zip bag with a sheet of dark construction paper in the front of it.  Then I pull each card out halfway to show just the top picture, and ask the children to tell me as many different things that rhyme with it as they can.  We brainstorm a bit, and then I pull the card all the way out to show them the "answer" that is on the card.  However, I always reiterate that there are many correct answers, because lots of words usually rhyme.
3. Explain How to Do the Puzzles:  I then showed them how to do at least one set of the rhyming puzzles, having them complete it as a group.  Depending on how successful they were, I either did another set with them or released them to try some of the sets individually.
4. Independent Practice with Rhyme Matching Puzzles:  At that point, I gave each child in the group a zip bag of puzzles (usually just six pairs in a bag,) and had them split up so that they were not ALL sitting at the table.  I put the more independent workers on the floor in separate spots, and told them to call me when they thought they had it.  And of course I kept the others with me at the table, but spread out as much as possible.  (It was at that point that I was wishing I had printed the sets of separate colors!  Boo hoo!)
5. Ask Kids to Tell You the Rhyming Pairs:  If possible, try to get to those kids that are finished and have them tell you all of the rhyming pairs that they matched up.  This should help solidify what they have done independently, and hopefully make up for it if anyone just used the shapes of the puzzle pieces rather the skill of rhyming to fit the puzzles together.  :0
6. Teach Kids to Organize Bags Before Putting Away!:  I had my kids flip the cards over and make sure that they all had the same number on them before putting them back into the baggies.  I know that many of them will likely forget to do this next time, but SOME will remember, and this should help out at least a little bit!
All in all, the kids did enjoy the rhyming puzzles!  I think that they benefited from them, and they were easy to put together.  I had a parent volunteer laminate them and cut them out, so it was SUPER easy for me!  Plus, they are super small and easy to store, so that's a win-win in my teeny, tiny TK room!

Check out the video on this Instagram post!!! (Click the right arrow) Hear him rhyming????

Have a good week!
-Heidi
P.S. Don't forget to check out my Rhyming Words Singable Book for your kids to make and sing!  I love it and it has always seemed to help!  It is on our Little Songs for Language Arts CD & DVD.
----------------------------------
Follow me!
Did you enjoy this post? 
Do me a favor and share it with your friends!  
And follow this blog by signing up for my email updates, or follow on 
Bloglovin'
, or 
follow me on TPT
!  I'm also on 
Pinterest
, 
Facebook
, 
Twitter, Instagram
, 
Google+
 and 
YouTube
, too!  
Don't forget to sign up for our email newsletter (at the bottom of this page) for special deals and promo codes that you won't find out about anywhere else.