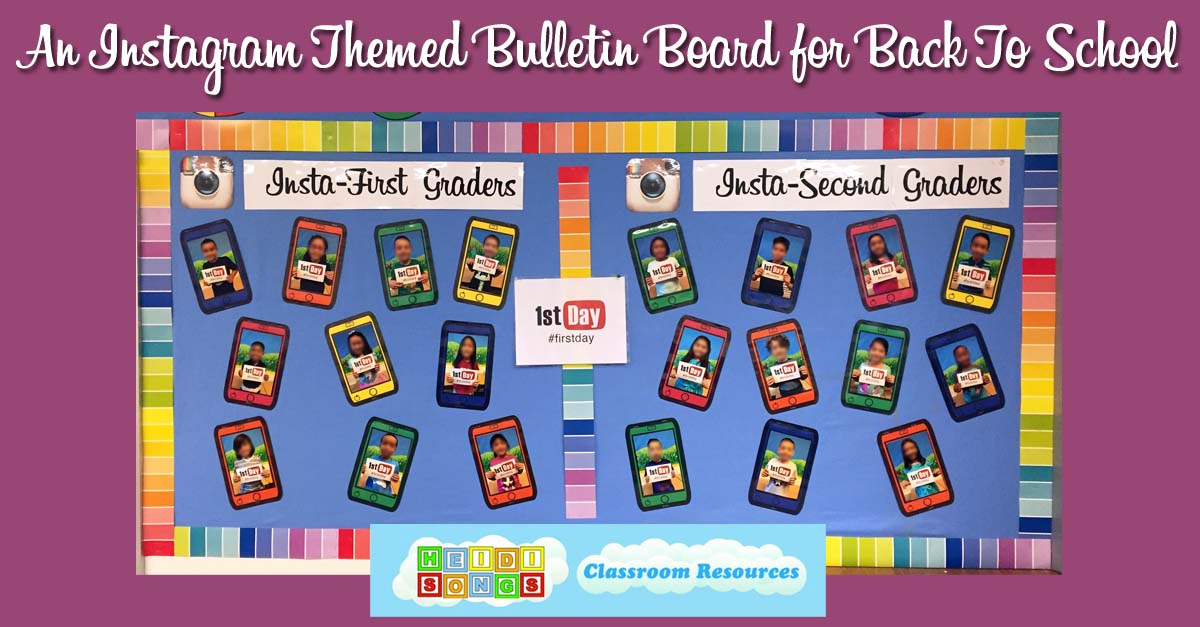 Here is a fun, FREE bulletin board download with an Instagram theme that works GREAT for back to school!  I've got everything you need right here to download and print to make it nice and easy for you- for any grade level!
To make it, all you have to do is print out the iPhones to use as frames for the children's photos.  I got some bright, primary colored cardstock at Michael's when it was on sale for this purpose, and then I laminated all of them.  I'll have to use tape or photo mounting squares, etc., to mount the pictures on the wall, I think.
I took pictures of everyone on the first day of school for this purpose, but I'm planning on using the iPhone frames to display their photos all year long!  I'll just change the caption from "Insta-First Graders" and "Insta-Second Graders" to "Insta-Field Trip" or something like that!
You can either print and download my "Insta-____" signs, (I made one for Pre-Kinders, Pre-Schoolers, Kindergartners, and First through Sixth Graders! And I JUST made one for TK! Get it HERE!), or get the Billabong font and print out whatever you like.  You can find the font here.  It's free!
Before school started, I posted a picture of my Insta-First/Second Graders bulletin board on my Facebook page, and was inspired by this photo that someone responded with of a child holding a the words "#FirstDay."  I loved the idea of using a hashtag to enhance the social media theme, so I decided to try it… and then I thought of pulling in the YouTube logo as well!
So my wonderful husband Greg volunteered to create a "First Day" logo that looked like a YouTube logo, with #firstday underneath it.  I love the way it came out!  This is also included in the download.  I printed out extras of these so that parents could take their own pictures with this logo on the first day as well!
As for the Instagram Multi-Color Camera logo, it turns out that we cannot post that here for you to download and print because we do not own it.  However, it is free to download here.  All you have to do is agree to their terms and conditions, and you're off!  It downloads in a .png format, but if you open it on your computer, you'll probably be able to use it as a jpeg image or save it as one and then go on from there.  I think I printed mine to be about a five inch square.
You can download this Instagram Logo by clicking here and agreeing to the terms and conditions.
All in all, the bulletin board was pretty simple to put together… once I got the whole idea in place.  LOL!  Of course, the creativity of it is the fun part, right?

For more tools and ideas for the classroom, head over to my website! If you're specifically looking for more bulletin board ideas, check out my blog post from last week! I posted about A Fun PacMan Back to School Door or Bulletin Board! There's a free download for that one, too!
Also, I want to mention a new product we have that we're pretty excited about – Wiggles Learning Centers! It's the same adorable Wiggles picture books, but student sized with a CD, designed for a Listening Center! Children read-along while I read aloud on the CD! The page turns are indicated with a cute chime.
The CD also includes the "No, No Wiggles" song, as found on Sing & Spell Vol. 6, in support of the "no" word. We have them available for "Wiggles Learns the Rules at School" and "Wiggles Learns to Pay Attention"!
Children love to read-along with the repetitive text, and this choral response format further reinforces the lesson! You can use this as a fun tool to help children learn the school rules at the beginning of the school year and as a reinforcement throughout the year. AND parents can use this picture book, too! It will help their child with reinforcing their school rules, as well as help prepare their child for starting a new year, classroom, or school!


Heidi
----------------------------------
Follow me! Did you enjoy this post? Do me a favor and share it with your friends!  And follow this blog by signing up for my email updates, or follow on Bloglovin', or follow me on TPT!  I'm also on Pinterest, Facebook, Twitter, Instagram, Google+ and YouTube, too!  Don't forget to sign up for our email newsletter (at the bottom of this page) for special deals and promo codes that you won't find out about anywhere else.