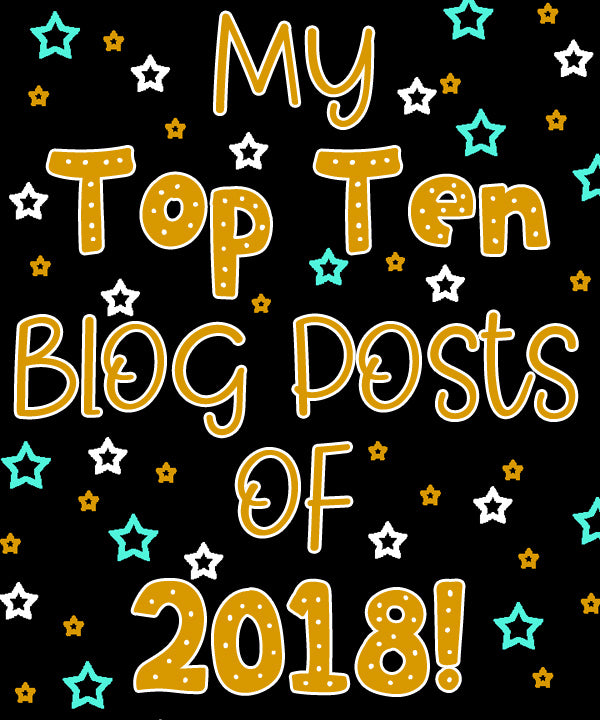 Another year has come and gone!! I don't know about you, but I am EXCITED for what 2019 will bring!  When it feels like time is speeding up and flying by, it really makes you want to stop and BE PRESENT, living in the now.  Hug your parents, kids, family, friends, students, everyone a little tighter and remember to live in the moment!  Life can be hard, I know.  Life can be hectic, I know!  But it can also be SO GOOD! Love your neighbors and be a light in the world! :)
Not only was this a FUN year for me teaching TK, it was also a great year of blogging!!!  I put together a list of my posts that were the MOST popular in 2018! :)  Thank you SO much to all my readers and friends for sharing, giving me feedback, and continuing to encourage and support me, as well as my HeidiSongs team!  See you next year!! 
1. Consequences That Teach Better Behavior (Instead of Punish)
I really am amazed at how many people have read this particular post!  It has been "pinned" so many times on Pinterest that I can hardly believe it!  The inspiration for this was just one little question a teacher asked me.  I said, "I try to give my kids consequences that will actually teach them better behavior than just punish them."  She said, "Oh, what are some of them?"  I thought, "What a great idea for a blog post!"  And so there you have it, folks!  If you have a question, just ask!  Sometimes, that's all it takes!  And if you have any tips to add to this post, I would love to hear them!  Someone else wanted to know how these ideas could be applied to high school, too!  (I'm not much help in that area, I'm afraid!)
2. Tips for Using the Michael Heggerty Phonemic Awareness Book
When I wrote this, I had NO idea that there were so many people that could use a little bit of help with the Heggerty Book!  In fact, I'm going to have to write another post on this soon, I think!  Phonemic awareness should be easy to teach, but sometimes, it's just NOT.  If you haven't tried out the Michael Heggerty Phonemic Awareness Program, you should totally give it a try.  (Some people call it the "Haggerty Phonemic Awareness Program."  Trust me, it's really Heggerty, with an E!)  And if you're having trouble getting your kids to sit through the lessons, check out my blog post at the link above!
3. A Creepy Pair of Underwear Craftivity FREEBIE!
It's December and my kids are STILL obsessed with this book, A Creepy Pair of Underwear!  It was a super fun craft, and I'm happy to share it with you in this post!
Tips for Teaching Kids to Write on Lined Paper!
Oh, if I could only hit each blog post out of the park like I did on this post right here! And it goes SUPER WELL with number eight below on pre-writing strokes!  My Transitional Kindergartners are doing SO WELL with their printing this year, and I'm sure it's because we started them right from the beginning with this method of teaching printing. 
5. When You're OVERLOADED with DISRUPTIVE Kids Who JUST WON'T STOP!
A classroom full of attention starved, hurting, disruptive children whose mouths just never seem to close:  it happens!  Are they in YOUR classroom this year?  It's hard to remember that their back stories will make you cry when they are making every teaching day difficult.  But in any case, here are some things that worked for me when I was overloaded a few years back.  Maybe one of these tips will help you, too?
6. Managing Toilet Needs Efficiently in Kindergarten and First Grade
Nothing will drive a bullet through a nicely flowing lesson like one child that needs to use the restroom, followed by five more that suddenly also need to go.  Find out how I manage this problem in this post here.
7. Best Free and Paid Apps for Kindergarten & PreK
I did a ton of research looking for the very best paid and free apps for our classroom iPads!  We are definitely on a budget, and have to make every dollar count.  These are my choices!  We still don't have them all, but at least when funds become available, I know which ones to choose! 
I'm also following the makers of each of these apps on Twitter so that if they EVER go free, I'll know right away.  And that's the BEST TIP EVER!   (Make sure you hit the "Get Notifications" button on ALL of them!)  That's how I got the "Teach Your Monster to Read" app FREE for every single iPad in our TK team- 18 of them!  And it is normally $4.99 each!
8. From Pre-Writing Strokes to Letters on "Sky Grass Dirt" Paper!
This post explains how I got the kids started this year writing on BIG lined paper as shown below, by teaching them to make pre-writing strokes on the colored "Sky, Grass, Dirt" paper with dry erase markers.  We went from strokes to letters on the colored paper, and then transitioned to the white paper and the smaller gray boxes as they are shown in our printing workbooks.  As long as the printing lines are nice and big, the children can learn it.  The colored visual cues REALLY help!  They are all free downloads on this post!
9. 17 Out of 22 Kids Learned the Alphabet in Just 11 Weeks. But How?
In this post, I explain exactly how I got MOST of my kids in TK to learn ALL of the letters and sounds in just eleven weeks!  That's pretty great, considering their ages!  They were all four years old when we started, and the last one turned five at the end of November.  I'm so proud of their progress!
10. The Name Game: A Whole Group Game for Back to School!
This is a fun and easy, low prep game that helps kids learn to read the names of their classmates.  It could work for sight words or word families, too!
----------------------------------
Follow me! Did you enjoy this post? Do me a favor and share it with your friends!  And follow this blog by signing up for my email updates, or follow on Bloglovin', or follow me on TPT!  I'm also on Pinterest, Facebook, Twitter, Instagram, Google+ and YouTube, too!  Don't forget to sign up for our email newsletter (at the bottom of this page) for special deals and promo codes that you won't find out about anywhere else.