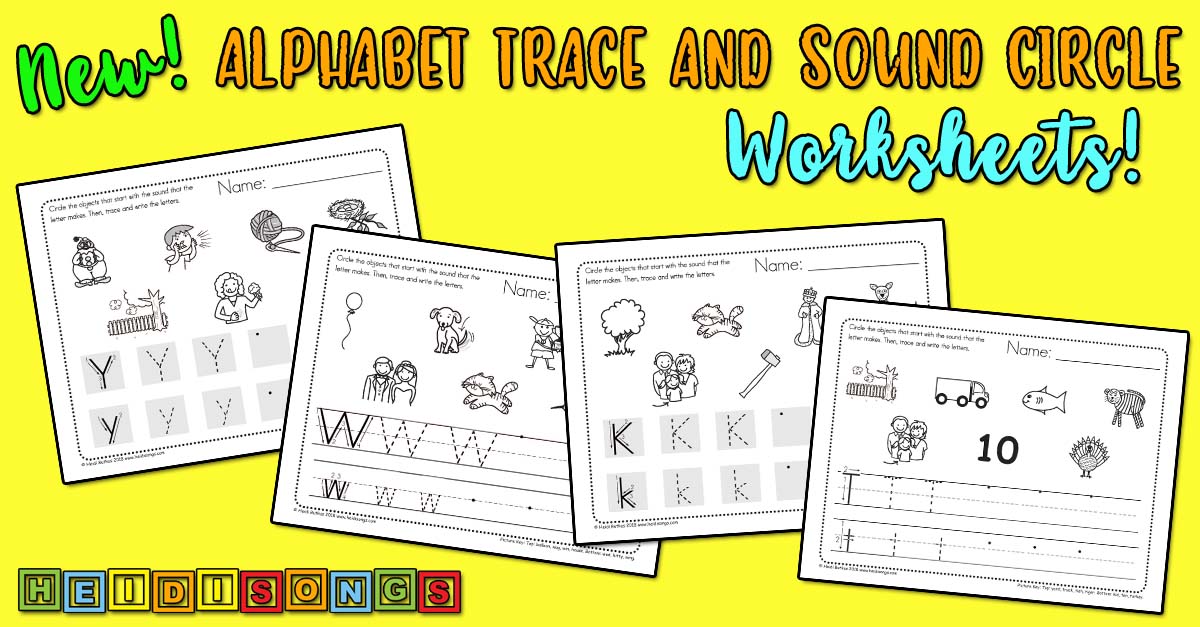 Here is a brand, new product for those of you that teach the letters and sounds, especially within the "Letter of the Week" format:  It's our Alphabet trace and Sound Circle Worksheets!  I love these because they are simple, straightforward, and to the point, and can usually be done in ten minutes or less.  
Even though we already have two Alphabet Workbooks, during the last school year, I recognized the need to have ONE worksheet that gave the children a chance to practice tracing the letter, writing it on their own, and then finding objects that start with that letter's sound.  
This is because I taught HALF-DAY TK!  We had just three hours per day to get every single thing in, and sometimes, our center rotations could only last ten minutes each.  So, each and every thing that we did had to be carefully planned out and had to MATTER.  Our Handwriting Without Tears workbooks were good, but only had practice in printing, and by December, we realized that we could also get a quick review of letter sounds in if we used a alphabet worksheet that included this on it along with printing practice. 
And that is why I decided that I would create this set, which is actually a combination of our Alphabet Workbook Volumes One and Two!  I do prefer to use these worksheets over any others that I've already made for the simple reason that they have the same artwork that is on the alphabet flashcards that are in those workbooks!  I drill the kids on those beginning sound pictures daily, and I really want to know if they are picking up the sounds and remembering those pictures from the flashcards.
One thing that is a little bit different about these is that the set includes two formats for the kids to write on: either lined paper, or gray boxes.  That's because it's quite obvious that some kids are NOT ready to write on lined paper, but still need a confined, designated space to write their letter in. 
I've learned this year that when we give kids lined paper to write in before they are ready, they seem to learn to IGNORE those lines!  So I don't want to give them the lined paper to write in before they are ready, and before I am ready to teach them what it is for!  Otherwise, it just seems to me that I am undermining my own efforts later to get them to PAY ATTENTION TO THOSE LINES!
These Alphabet Trace and Sound Circle Worksheets are only $3 for the whole set!  And here are some free samples!  Enjoy!
- Heidi :)
For more alphabet resources and our Letters & Sounds collection, click here!!
----------------------------------
Follow me!
Did you enjoy this post? 
Do me a favor and share it with your friends!  
And follow this blog by signing up for my email updates, or follow on 
Bloglovin'
, or 
follow me on TPT
!  I'm also on 
Pinterest
, 
Facebook
, 
Twitter, Instagram
, 
Google+
 and 
YouTube
, too!  
Don't forget to sign up for our email newsletter (at the bottom of this page) for special deals and promo codes that you won't find out about anywhere else.