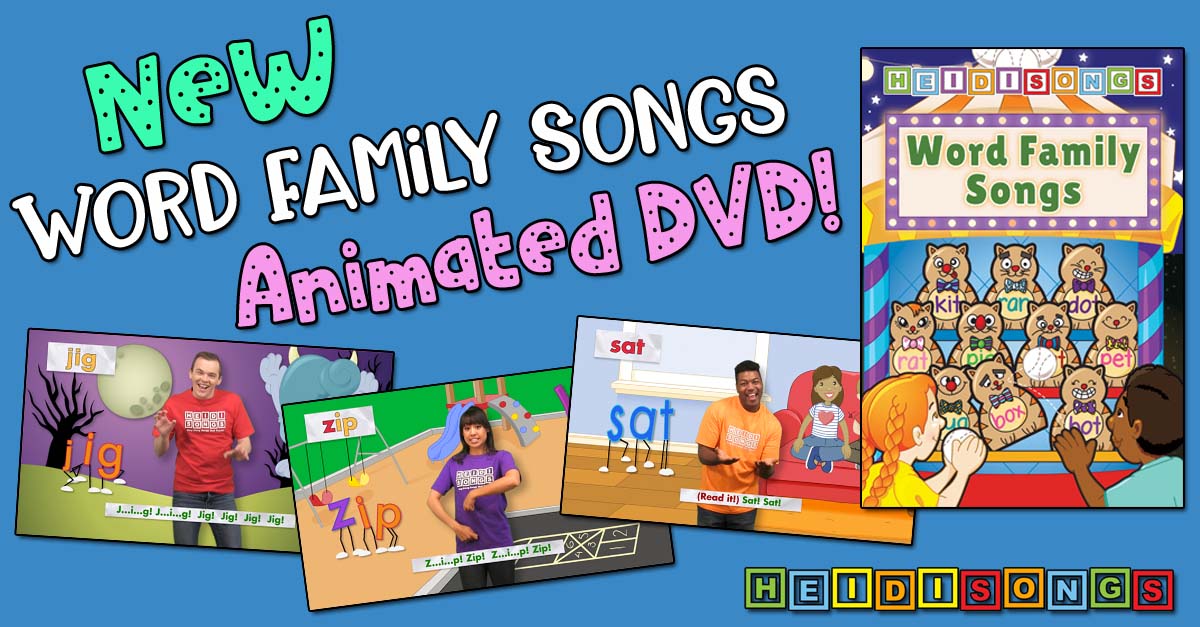 It's here- our newly animated Word Family Songs DVD, designed to help kids learn to read CVC (consonant-vowel-consonant) words!  These active, catchy songs are the perfect way to help kindergarten, pre-k, or first grade kids learn to read word families, learn decoding strategies, blending sounds, rhyming words, phonics, phonemic awareness, and so much more!  If you need to help kids learn to read, this is perfect for your pre-reader, emergent reader, ESL, ELL, or special needs students, children with dyslexia, or anyone who needs to learn the decoding strategy of phoneme blending.
You may already own the non-animated version of this DVD, formerly titled, Sound Blending Songs for Word Families.  The songs on this version are the same, but the animated version is MUCH better because the letters stretch and grow as they are sounded out, and that visual seems to make a WORLD of difference, at least to my students!  Of course, the animated version features our new, younger actors and actresses!  My boys really respond to seeing other male actors on screen, and of course having a diverse cast represented on screen is definitely a plus! I have been using this new version with my Transitional Kindergarten (TK) class for the last six weeks or so, and I can tell you that it has been EXTREMELY effective!  They are getting SOOOO good at reading those CVC words, and most of them only just turned five around November!
We all know that sight words are important, but children simply cannot learn to read without a strong foundation in phonics and phonemic awareness, and these word family songs will help get them started! Our word family songs teach kids to sound out CVC word families, which form the basic foundation of phonics: giving each sound in a simple, three letter word, and blending those sounds together to make a word.The truth is that kids can't learn to read well without understanding phonics and word families.
So how do these word family songs help?  For example, the At Word Family Song takes children through the steps of sounding out -at word family words, such as "cat," "hat," and "mat." There are songs for 15 three letter, CVC words (consonant-vowel-consonant word families) that show kids in kindergarten, pre-K, and first grade exactly how to decode and blend sounds together. This fun and friendly, multi-sensory method of learning to read is appealing to pre-readers and invites them to sing and dance along again and again!
Repetition is especially helpful to young readers with the symptoms dyslexia, as well as ELL and ESL students who often require multiple reiterations of a lesson in order to learn.  They won't want to cooperate if they don't like it, so capturing their attention and maintaining their cooperation is essential!  If they LIKE it, then half of the "battle" is already won!
Word families include: -at, -an, -it, -in, -ig, -ip, -op, -ot, -ox, -et, -en, -eg, -ug, -ut, -un.
There is also a song about nonsense words and what they are, a song that teaches kids to blend two sounds together, a song that teaches kids to read two letter words, and a song the explains how to sound out a word!
Music Titles Include:
Just Two Sounds
Little Two Letter Words
How Do You Sound It Out?
At Family Song
An Family Song
It Family Song
In Family Song
Ig Family Song
Ip Family Song
Op Family Song
Ot Family Song
Ox Family Song
Et Family Song
En Family Song
Eg Family Song
Ug Family Song
Ut Family Song
Un Family Song
Nonsense Words
You may have noticed that the word families in this DVD align exactly with our CVC book, Volume One!  And that was NO accident!  That was done by design, so that there would be a musical support to help kids understand how to decode and read those words, because I know how important that foundation in phonics, blending sounds, and word families really are!
They also align with the Hidden CVC Words Worksheets
The CVC Puzzles
The CVC Pockets
The I Spy CVC Word Families Easy Readers
And even the Color by Nonsense Words Worksheets!  On those, kids read the CVC words, and if they are real CVC words that make sense, they color them one color, and if they are not, they color them another color.
I hope that all of this will help you get your little ones reading this year!  Here's the link again! Have fun and happy teaching!

-Heidi
----------------------------------
Follow me!
Did you enjoy this post? 
Do me a favor and share it with your friends!  
And follow this blog by signing up for my email updates, or follow on 
Bloglovin'
, or 
follow me on TPT
!  I'm also on 
Pinterest
, 
Facebook
, 
Twitter, Instagram
, 
Google+
 and 
YouTube
, too!  
Don't forget to sign up for our email newsletter (at the bottom of this page) for special deals and promo codes that you won't find out about anywhere else.