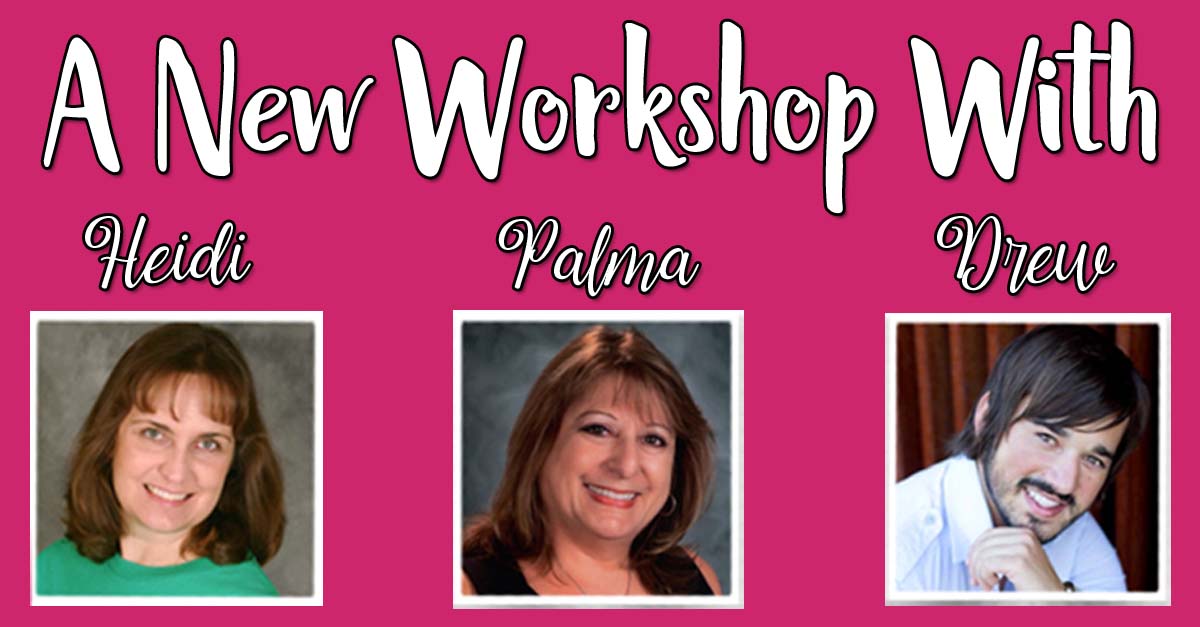 Today I am excited to announce that I will be giving a workshop with Palma Lindsay and Drew Giles on Saturday June 2, 2018, in Albany, CA!  Our workshop will be just for Pre-K, Transitional Kindergarten (TK), and Kindergarten teachers to help you get ready for the coming school year!  This great day will be sponsored by the California Kindergarten Association and is part of their Professional Development Workshop series.  So come get your "P.H.D." with Palma, Heidi, and Drew!  LOL!
This workshop will be unique because each presenter will be giving three 45 minute sessions before lunch, and three more 45 minute sessions after lunch!  So each presenter will be sticking with just "the best of the best ideas" from the sessions that are normally 75 minutes each!  That's a win-win for the attendees, who will very likely get just the best information that they would have gotten in the longer sessions!
I, Heidi Butkus, will be giving you my best tips for active and musical ways to learn the alphabet, numerals, and numeracy so that kids learn them QUICK and they STICK!  We'll learn some songs and cover how to use them in the classroom so you can maximize teaching time and help kids do as well as they possibly can!  Just think:  once you've got those basic concepts down, you'll have time for all of the fun things you really LOVE to do with your kids!
Palma Lindsay, who blogs over at KFUNdamentals, will tell us how to keep the FUN in the fundamentals of ELA and math, while using developmentally appropriate practices!  If you are not familiar with Palma yet, you are in for a treat!  She has some of the best and most fun ideas!  I really enjoy her workshops, and I know you will, too!
Drew Giles will be joining us on this fun day, and will be showing us how to increase language and literacy through SIGN LANGUAGE!!!  He also is going to show us how to stress less and manage behavior with MINDFULNESS and YOGA!  I recently got to meet Drew and spend a little bit of time with him at the SDE Conference for Texas Pre-K Teachers in Austin, where we were both presenting, and I really enjoyed talking to him!  I am excited to hear his ideas, and I think you will enjoy them, too!  Check out his website!
Details:
Date:  Saturday, June 2, 2018
Time:  10:00-3:30  (You still get to sleep in a little- hooray!!!)
Location:  University Village, Community Center Gymnasium, 1123 Jackson Street, Albany, CA  94706
Cost:  $150 (CKA Members)  $160 (Non-Members)
What's included:  Morning coffee & snacks, a boxed lunch & soft drink, handouts, and gobs of great teaching ideas!
Hope to see you there!!
Click here to register online!
Click here to download a registration form!
– Heidi

P.S. Our Phonics DVD is now TWO-DISCS and ANIMATED!!! Check it out!!!
———————————-
Follow me! Did you enjoy this post? Do me a favor and share it with your friends!  And follow this blog by signing up for my email updates, or follow on Bloglovin', or follow me on TPT!  I'm also on Pinterest, Facebook, Twitter, Instagram, Google+ and YouTube, too!  Don't forget to sign up for our email newsletter (on the left sidebar) for special deals and promo codes that you won't find out about anywhere else.