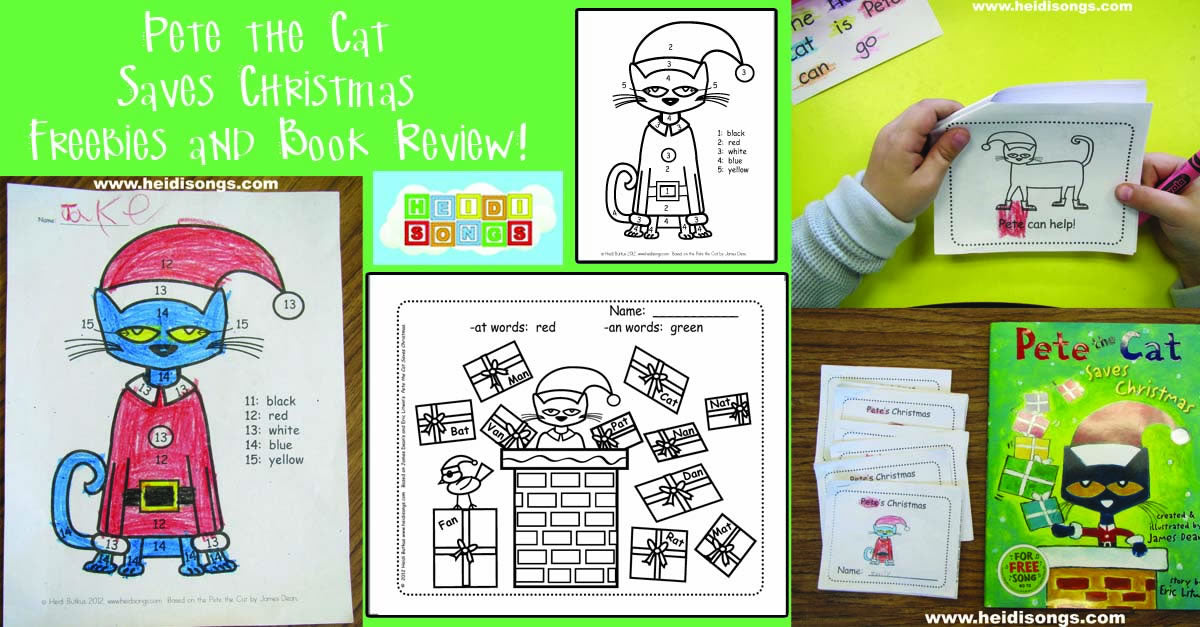 Hello, and and happy holidays!  Here is my latest holiday offering for all of you fans of Pete the Cat.  I have THREE FREE DOWNLOADS for you! These include a color by number worksheet that is printable in two different levels, a word family worksheet, and a little "Pete's Christmas" easy reader, too!  I hope you enjoy them, because they took some time to create. 
The children loved to look for their names on Santa's list!
If you have not yet read this newest book in the Pete the Cat series, you will not be disappointed!  However, it's not the usual Pete the Cat fare offered up by the author, Eric Litwin.  In my opinion, the previous Pete the Cat books were popular with young children probably for their simplicity, repetitive patterns, surprise endings, up-beat messages, and fun illustrations.  This Pete the Cat book is different, but equally good.
Pete sticks to his own special style, whether he is delivering presents or stepping in blueberries!
The text of the book is written to mimic the Night Before Christmas poem by Clement C. Moore.  It includes only one short repetitive refrain in which the children are reminded that they can help out and give it their all, "even if they are small."  And even though Pete is small, he helps Santa out by delivering presents when Santa gets sick on Christmas Eve.  He just has the reindeer pull his VW mini-bus!
Pete uses his van to deliver Santa's toys!
My students loved the story and asked to hear it more than once.  I believe that it will become a holiday "standard" to have in any classroom collection, and I am glad that I purchased it!  The book is available to purchase on Amazon, but I have also seen it at Target and at many book stores.  I also saw it available on the Scholastic Book Store, so you might even be able to pick it up with Bonus Points if you are lucky enough to have some!  I think it was priced at $9.99 on the Book Club website, which is even less expensive than I found it on Amazon.  (However, that may have been for a paperback copy.)
And now for the information on the free downloads!  
This is the Pete the Cat Color By Number Worksheet.
Pete the Cat Color By Number Worksheets
The first Pete the Cat freebie is a Color By Number Worksheet.  I decided to target the numbers 11-15 on it, since those are the numbers that we are focusing on in my Kindergarten classroom at the moment.
This Pete the Cat Color By Number Worksheet is provided in two formats- one to practice 11-15 and the other to practice 1-5. Both are free!
However, when I finished, I thought that it might be a good idea to modify it a bit so that preschool children could also enjoy it, so I saved a copy that targeted the numbers 1-5 only.  My students enjoyed it, and I hope that yours will, too! 
"Pete's Christmas" Easy Reader
The second Pete the Cat freebie is a "Pete's Christmas" Easy Reader.  One of my favorite things to do with emergent readers is teach them to read little printable books that they can take home and proudly read to their parents.  Parents are often amazed to tell me how their child could read the entire thing!  And that always makes the effort seem worthwhile.
This is what the easy reader books look like, along with the index card that I made to go with the word finding activity.
Many of the children can read most, if not all, of the words in the little books that I make for them right from the start.  But to help those that cannot, I always have the children search for certain sight words on each page and highlight (or color them) with crayons or highlighting markers.  I find that this forces the children to notice more of the words in the text, and think about what they are really seeing on the page.  So rather than simply let their finger dash back and forth quickly across the page as they "pretend read" (as a child that cannot track words correctly often does), the children are searching for words that they know in the print and then coloring them.  Then they try to read the little book back to me while attempting to track (point to) the words correctly as they go along.)
This is what the index card with the words to find and color looks like.
I usually find that after they have colored the words that they know on the pages, they are far more likely to be able to track (point to the words one by one) correctly while they read.  Often, it seems that this activity alone produces a huge "a-ha" moment for some children as they begin to see that these words that we have been singing about and that they have been learning to read on flash cards  are useful to them in books!  They may actually find them in real books and be able to read them and use them in real life!  In other words, after activities like this, some children begin to see themselves as readers.  It's a major step forward for some of them!
1.  To do this activity, simply choose a few words in the printable easy reader that you want your students to work on, and write them on an index card with a black marker.  Then take a crayon and color each of the words lightly with a crayon or a highlighter.  Scatter these index cards on the table where your students will be working.  Print out the easy reader book and colate it for your students in the right order.  Make one copy of the easy reader in the larger print (8.5" x 11") so that you can read it with your whole class and show them what to do with it.
2.  Before passing out the little books or index cards, make sure that you have already read the real Pete the Cat book by Eric Litwin whole group, and then show your class the large print copy of the easy reader.  Then when you get your students into small groups, review the words you have put on your index cards, and review the easy reader story, modeling how you track it with your finger correctly as you go along.  Ask your students if they can help you read the story and point to some words that they know on the page.  Then show them how to highlight the words as shown in the picture.
3.  Pass out the books and have the children read it chorally together with you.  Then release the children to read it to themselves.  Listen to them and watch to see if they are tracking the words correctly as they read.  Take note of any children that were unable to do this, because you may find it interesting to see if they improve at all after doing this activity!
4.  Sing some of the sight word spelling songs with your kids as they point to the words.  This may help them find the words as they try to do it on their own. You will probably hear the kids singing some of these songs to themselves as they look for and color the words.  I love it when I hear that.  It's so cute!
5.  When the children are finished re-reading the book independently, give them each a box of crayons and let them begin to highlight the target words on the index cards.  My rule is that no one is allowed to color any of the pictures at all until all of the words are highlighted.  Otherwise, some of the children may spend the entire time coloring and spend almost no time finding and highlighting the words.  I gave my children the option of coloring it some more during their play time, and quite a few of them chose to do this!
6.  When children are finished highlighting words, then they should re-read the book to the teacher individually, tracking the words correctly as they go along.  Did any of them improve in their ability to track the words?  You may also want to ask them how many words and letters there are on each page, and see if they can answer you, just for some added reinforcement in concepts of print.
7.  Be prepared to give some groups of children an extra day (or just some extra time) to finish as is necessary.  While children are waiting for a turn to read their little book to the teacher, they may color the pictures in the book, (not just highlight the words.)  I gave my children colored pencils for this purpose, since the pictures are small.  I also tell children that if they do not wish to color the pictures, they may read a different book instead.
This is the word families coloring worksheet.  I haven't tried it yet in the classroom, so I don't have a colored sample to show you at the moment.
Pete the Cat Christmas Word Families
The third Pete the Cat freebie is a Word Family Worksheet.  As soon as I made the last page of the easy reader, I knew that it would be SO easy to turn it into some kind of color by word family worksheet!  So that is exactly what I have done with it here.  My students have learned both the -at family and the -an family words, so I included both of the on this worksheet.  Just have the kids practice reading the words on the presents, and have them color according to the directions.  I haven't had a chance yet to try this one out with my kids, so what you are looking at is just the plain picture that I drew without any coloring.  Go ahead, say it!  "I like the way Heidi drew the Pete the Cat word families worksheet!  I can tell she tried her best!" 

Extension Activities
1.  Teach children how to video tape each other as they read their little books using an iPad or an iPod.  This is an extremely motivating activity, and some children will practice very hard and try again and again to read it just right and with expression in order to get it just right!
2.  Make copies of the little easy reader book on card stock and have the children try to put the story in order as best they can.  Ask them to retell the story using key words such as "first," "next," "then," and "last," etc.  This is a great skill to develop because later on, these "transitional phrases and words" can make their way from children's oral language into their writing.
3.  Have your class think of a new ending for the story and dictate it to you as you write it down.  How would they have Pete save Christmas?
4.  Ask your child to compare the two versions of the Pete the Cat Christmas story.  How are they the same?  How are they different?  Make a Venn Diagram to show the similarities and differences.
5.  Find the Pete the Cat Guided Drawing activity on my blog post here.  Add a Santa hat to Pete's head in order to make it a Christmas drawing.  Then find the Christmas Guided Drawing instructions at this blog post here.  Now you can have them add Santa, some reindeer, and some elves to their picture!
----------------------------------
Follow me! Did you enjoy this post? Do me a favor and share it with your friends!  And follow this blog by signing up for my email updates, or follow on Bloglovin', or follow me on TPT!  I'm also on Pinterest, Facebook, Twitter, Instagram, Google+ and YouTube, too!  Don't forget to sign up for our email newsletter (at the bottom of this page) for special deals and promo codes that you won't find out about anywhere else.