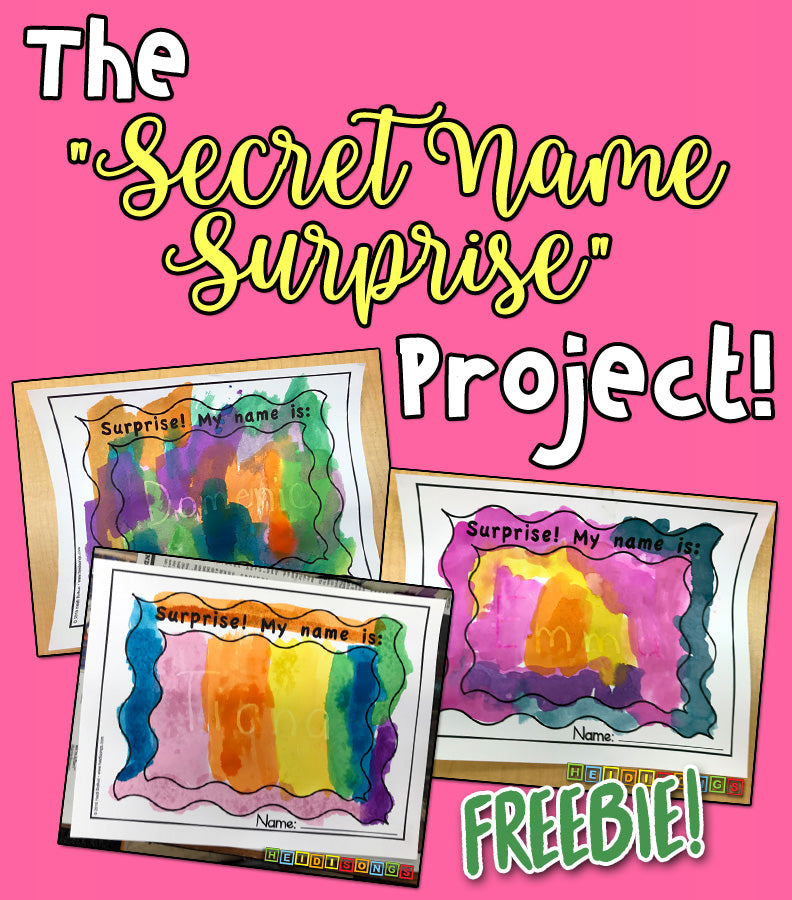 Here is a quick and fun project that is just perfect for the beginning of the school year, and there is almost no prep at all!  It's the "Secret Name Surprise" project, which is simply a watercolor crayon resist done over your students' names!
We had such a good time with this that I wanted to share the idea with you, and give you the free download.  Hopefully you will get it while your students are still learning to read their names!
I did this last year, but used the "Secret Sight Word Surprise" frame for it.  And admittedly, all I did this time is just change the words on top.  But hey, it's a great idea and a fun project, right?  LOL!  I also made a "Sweet Sight Word Surprise" one year for Valentine's Day! 
To prepare, all you need to do is print out the frames on white cardstock and then write your kids' names with a white crayon.  Be SURE to use a high quality crayon, such as CRAYOLA BRAND, so that your names show up!  I have had bad luck using the less expensive crayons, such as RoseArt or the Target brand, etc.  I am not sure why, but perhaps it's just not waxy enough?
Also, I recommend that you make sure you really press down hard and make thick lines with the crayon.  That will also help the names show up.  I did this in advance, and then also penciled the names on the back of the pages to make them easier for my parent volunteers to pass out to the correct child. :)
Once that is done, all you need to do is show the children what to do and turn them loose to paint!  You may wish to show them what happens if they paint over their names several times (it will eventually get covered up, despite the crayon!)  Encourage them to paint over the name just ONCE.  If they want to keep painting, they can paint around the frame instead!
Here is a short video of one of our TK students painting.  And here's the free download link again!  Enjoy!
- Heidi :)
P.S. Check out my Sight Word collection! Like I stated earlier, this activity can also be used as a Secret Sight Word Surprise!!
----------------------------------
Follow me! Did you enjoy this post? Do me a favor and share it with your friends!  And follow this blog by signing up for my email updates, or follow on Bloglovin', or follow me on TPT!  I'm also on Pinterest, Facebook, Twitter, Instagram, Google+ and YouTube, too!  Don't forget to sign up for our email newsletter (at the bottom of this page) for special deals and promo codes that you won't find out about anywhere else.