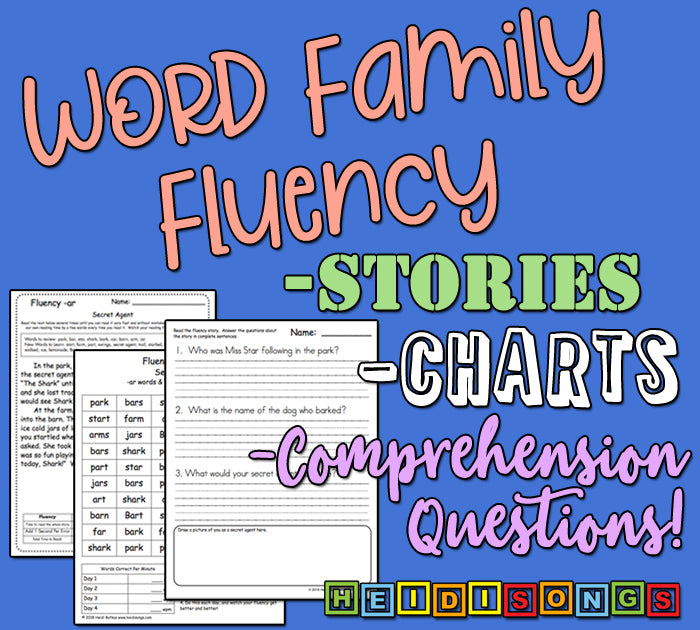 Today, I am SUPER excited to tell you about our newest product: Word Family Fluency Stories, Charts, and Comprehension Questions!  They are aligned perfectly with our Sounds Fun Phonics set of videos, songs, word building kit, poster, multisensory flashcards and worksheets!  This fluency set will complete our set of phonics word family materials, giving children a chance to apply what they have learned and practice becoming fluent readers with those new words!  Plus, the comprehension check is the perfect way to finish off the unit.
I first started using fluency stories and word charts three years ago when I taught that first and second grade combination class.  My students in both grades really seemed to need to practice reading fluency, and giving them fluency word charts and stories to practice reading those words seemed to be exactly what they needed!  At the time, though, I had not yet developed my own fluency stories yet, so I used others that I found on TpT.  See each photo with my students below to find out where I got the ones in the pictures.  :)
So these new Word Family Fluency Stories, Charts, and Comprehension Questions are exactly what I WISHED I had had for my first graders that year, and even for some of my second graders, depending on the level!  This project is something that I have wanted to accomplish for a very long time, and I certainly hope that it is useful to those of you that are teaching first and second grade!  (I rather doubt that it will be appropriate for any kindergartners, LOL!)
This was my routine for using the fluency charts in my first and second grade class.  Before I left each day, I put the charts on each desk so that they would be ready to go for the children as soon as they walked in each morning.  This was their "bell work."  The fluency word chart was on one side and the fluency story was on the other side.  I chose to put mine in page protectors, but that was simply my personal preference.  
As soon as the children came in, they were supposed to put their things away and be seated.  I gave them just a couple of minutes to accomplish this, and then started the timer at one minute.  The children were to begin with the word chart and keep reading it for one minute until the timer went off.  Then I would have them shout out the number of words they read in one minute!  After a quick congratulations, I had everyone turn the page over and read the story on the back.  Once again, after the timer went off, I had them call out the number of words they read per minute.  
I also attached these fluency sheets to their homework and asked parents to listen to them read them each night and record how many words per minute they read.  (We did not write down their fluency scores in class, only on their homework.)
At the end of the week, I did some spot checking to see how they were doing.  Not everyone got checked each week, because that was simply impossible!  I just wanted to get an idea of how they were reading, and whether or not their fluency was improving.  I also walked around the room and listened to the kids as they read through the fluency stories together each day.  (I know what you are thinking.  Working on fluency without testing them weekly???? GASP!) 
But you know what?  I decided that the fluency test score was not the most important thing.  The PRACTICE was the most important thing!  And so that is what I did.  And guess what?  It WORKED!  The kids made OUTSTANDING progress in reading and language arts in general!  Fluency was only one component, of course, but I am confident that it played an important part.
My wonderful friend Katie Knight of Teacher to the Core was kind enough to give me the fluency stories that my first graders needed, in the photo above, and then I created some word family fluency charts to go with them.
Here's a list of the every story from each word family in our new fluency stories set!  The stories with a star (*) next to them, have a chart to match the story. This chart includes words from the story and words for that phonics spelling pattern from the phonics word lists found on Sounds Fun Phonics worksheets. 
-ay: By the Bay
-ai & -ea: Mr. Read's Store
-ai: A Few Riddles with -ai Words*
-ay & -ai: Sailing with Dolphins
-ai: The Painted Train
-ar & -or: Picnic at the Orange Grove*
-ar: Secret Agent*
-au & -aw: Riddles with -au and -aw Words
-au & -aw: The Movie Studio Tour*
-au & -ou: Autumn & Austin's Awesome Cheese Sauce* -au: Paul's Haunt*
-aw & -ow: Raven's Tricks
-ew: Witches Stew
-ea: The Beast
-ea & -oa: The Amazing Beasts Zoo*
-ee & -ea: -ee and -ea Riddles
-ee: This Week's Dancing Queen*
-er: The Model Cat*
-er, -ir, & -ur: Which Super Hero Would You Be?
-ir: Three for the Game*
-ink & -ing: Plink and Brink Rock*
-ing: The Prince Who Forgot His Glasses
-igh: Knight Fights
-igh: Dessert Delight*
-igh: The Night Fright*
-ink: Pink's New Drink*
-ou & -ew: Mikey Mouse Cooks*
-ou: Counting Clouds*
-ou & -ow: Mouse's Daring Escape*
-ow: King Owl's Crown*
-oi: Teach a Droid to Make French Fries
-oo: The Zoo School*
-or: Dragon Sports Games
-oy: Cowboy's Horse
-unk: The Skunk
-ur: Pretty Kitty the Surf Cat
-unk & ink: Skunk and Chipmunk at Camp
ch-: Cheering Chicks
ch-: The Cheer Chums
ch-: The Chomping Champ*
sh-: Shoe Shop*
sh-: The Shy Sheep*
th-: Be Thankful*
th-: The Three Ducks*
th-: These Crazy Things!*
Final Y: The Kitty and the Puppy
Bossy E & -ee: The Box Kite by the Bay
Bossy E & -oa: Christmas Wish List
Bossy E: Cookie Shapes
Bossy E & -ai: On the Train to Grandma
Bossy E (Long Vowel A): Dave's Dog Jade Bossy E (Long Vowel E): The Sphere in the Sky Bossy E (Long Vowel I): The Hike
Bossy E (Long Vowel O): The Mole's New Home Bossy E (Long Vowel U): The Surfer Dude
This whole BUNDLE of stories, charts, and comprehension questions is only $30 on my website!! You can get a few of the word families individually on my TPT store such as: -Ee & -Ea, Bossy E (Final E), -Ai & -Ay, -Ing -ink & -Unk, -Ar -Er -Ir & -Ur, -Ou -Ow & -Oo. These TPT downloads range from $5.50 to $8.00, depending how many word families are in that mini set. 
I hope these will be useful to you!  I would love to hear your feedback! :)
Thanks!!
-Heidi
P.S. Our Sounds Fun Phonics Classroom combo goes SO WELL with these new stories, charts, and comprehension questions!!
This discounted combo includes all of the following for only $75! 
• Sounds Fun Phonics CD 
• Sounds Fun Phonics Animated DVD 
• Sounds Fun Phonics Workbooks Vols. 1 & 2 (Printable Files on Disc) 
• Sounds Fun Phonics Printed Flashcards
• Sounds Fun Phonics Poster
• Sounds Fun Phonics Word Building (Printable Files on Disc) 
• Sounds Fun Phonics Bingo Game (Printable Files on Disc) 
• Sounds Fun Phonics Bang Game (Printable Files on Disc)
• Sounds Fun Phonics Vol. 1-2 Word Family Coloring Worksheets (Printable Files on Disc) 
And here are some samples of our Phonics and Word Family SONGS! :)
----------------------------------
Follow me! Did you enjoy this post? Do me a favor and share it with your friends!  And follow this blog by signing up for my email updates, or follow on Bloglovin', or follow me on TPT!  I'm also on Pinterest, Facebook, Twitter, Instagram, Google+ and YouTube, too!  Don't forget to sign up for our email newsletter (at the bottom of this page) for special deals and promo codes that you won't find out about anywhere else.